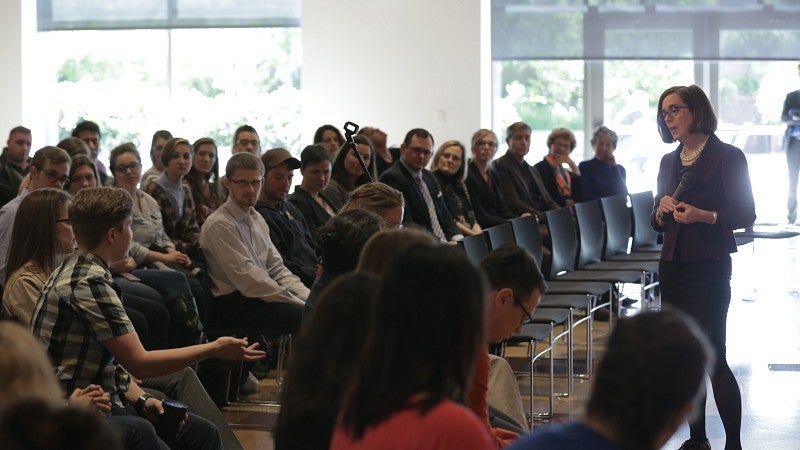 On April 25, Governor Kate Brown visited UO's Ford Alumni Center for a campus conversation about her path through law and politics as well as challenges and opportunities for higher education in Oregon. She was joined by approximately 100 students, faculty, and staff from various student groups, ASUO, the Law School, and the Wayne Morse Center for Law and Politics. During her speech, she touched on some of her most recent accomplishments as Secretary of State and Governor, including the "Motor Voter" law passed in 2015 and the "Coal-to-Clean" law passed in February.

The Governor and students also engaged in a question and answer session. Undergraduate and graduate students posed questions for Governor Brown on topics ranging from strategies to incentivize more women and girls to become involved in science, technology, engineering and math (STEM) fields, funding and advocating for public universities, and sexual assault awareness and prevention programs on college campuses.

Earlier in the day, Governor Brown participated in an EmX bus tour hosted by the Lane Transit District (LTD). She was joined by President Michael Schill, Eugene and Springfield elected officials, and members of the LTD Board of Directors. President Schill made remarks at the tour's conclusion at Dad's Gate, highlighting the mutual benefits of the successful partnership between UO and LTD.