The return of the off campus door-to-door outreach event demonstrated partnership between UO and community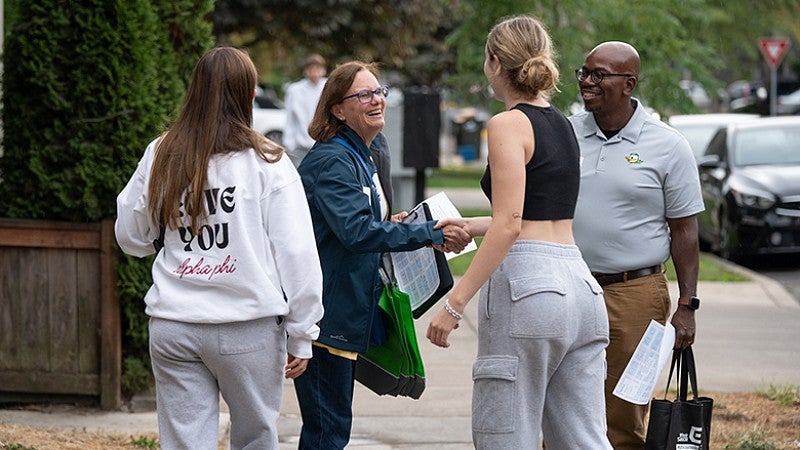 2022 Good Neighbor Welcome, with Mayor Lucy Vinis and UO Dean of Students Marcus Langford

After a four year hiatus, the door-to-door campus neighborhood welcome event is back! The Good Neighbor Welcome is a collaboration between leaders and staff from the University of Oregon and City of Eugene, student leaders, law enforcement, and community members. In small groups made up of a blend of representatives from these various groups, volunteers go door-to-door in near-campus neighborhoods areas, welcoming UO students back for the year, sharing tips on keeping them and their belongings safe, and encouraging them to be respectful and mindful neighbors through positive dialogue.  
The 2022 Good Neighbor Welcome took place Wednesday September 21.
The Good Neighbor Welcome is coordinated by UO Government and Community Relations with assistance from the UO Division of Student Life, UOPD, and the City of Eugene Office of Equity and Community Engagement. Various resources to enhance the off campus student experience are given out during the Good Neighbor Welcome, including the Your Neighbors and U flyer, a resource designed specifically for this event. 
Questions? Contact Cami Thompson, Assistant Director for Neighbor Relations: cami@uoregon.edu