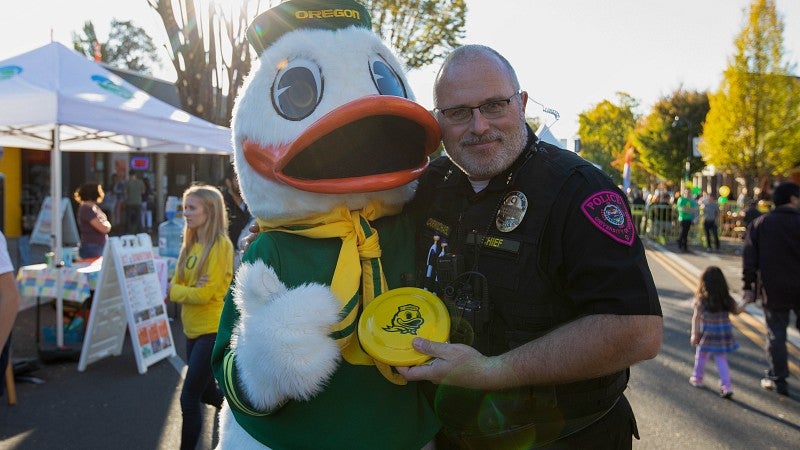 UO's Chief of Police Matt Carmichael has worked avidly since his arrival on campus in 2016 to enhance campus safety and build relationships with community partners. He will share his thoughts in a periodic letter to community members in Around the O Community Edition. We share the first of such letters in this December 2018 edition.
Dear community members,
Hello from 2141 East 15th Avenue! While the UO Police Department may be out on the east side of campus, we try hard to be involved in the heart of campus. You'll see officers on foot in the EMU, driving on 13thAvenue, patrolling traffic on motorcycles on Franklin Boulevard, and even patrolling Autzen Stadium on all four paws, for Officer Onyx. (If you haven't yet met our explosive ordinance detection dog, when you do remember he likes being scratched most on the belly!)
We go pretty much everywhere we think we can make a difference. As the chief, I get to attend a lot of functions and meet many of our faculty, students, and their parents. My message is always this: I have striven to make our department a vital and welcome part of our community, because trust and familiarity are the cornerstones to making us successful in our mission. And our mission is to make campus and our students, faculty, and staff safe, inclusive, and free!
We have accomplished a lot in the last year. Some of our more visible accomplishments are in uniform appearance, and a new and (we think) sharply designed fleet of police vehicles. Some wins are less obvious, like a training schedule more rigorous than any department in the area. All are meant to make us a better resource for you, and one you can be proud of.
Football season is wrapping up, and this year was especially interesting not just for the heart-palpitating finishes, but also because we are working closely with the UO Athletic Department to develop policies that will keep the events and venues safer. This year readmittance during half-time was halted, in an effort to reduce the minority of fans who overindulge at half-time and to keep the stadium down to one entry-screening without sacrificing safety.
Though we like the challenges the football season brings, and we like to see our student-athletes succeeding, the season's end frees us up to focus on other public safety concerns.
In my estimation we have been doing a wonderful job of keeping our physical campus safe and free. One of the challenges that comes with this is recognizing that the campus does not exist in a vacuum. We are working a lot with our partners at the Eugene Police Department to address issues of concern in the west university neighborhoods. While there are challenges there, I have no doubt that between the close relationship I have with EPD Chief Skinner, the dedication of our officers, and the goodwill of our community, we can address any public safety concerns in the neighborhoods, make them better places for our students to live, and reduce the amount of distractions that can occur on a campus located in the heart of a city.
While these are some of the concerns and challenges we as a police department--and we as a community--face, there are always others. As my student assistants will tell you I like to go a mile a minute, and I am always working on multiple projects at one time. From bringing our Designated Driver Shuttle and Saferides programs to exceptional service levels, to personally handling parent concerns, my staff and I have many ongoing projects. But we are not too busy to enjoy meeting you-all one-on-one. If you see me or any of our officers around campus, take a moment to say hello, to tell us YOUR concerns, and make a friend. As my favorite Corporal, Bo Macovis, will tell you, our officers genuinely appreciate the opportunity to meet members of the community, and get a different perspective. And yes, Corporal Macovis did edit this article.
Lastly, I want to say thank you to all of you who offer your support, tacitly or directly, because I truly believe we as police officers are here to serve, and the more our message reaches the community, the more effective our service will be. Have a safe day, and please don't hesitate to reach out to us!
UO Police Chief Matt Carmichael
To learn more about UOPD programs and services, or to contact the department, visit their website.