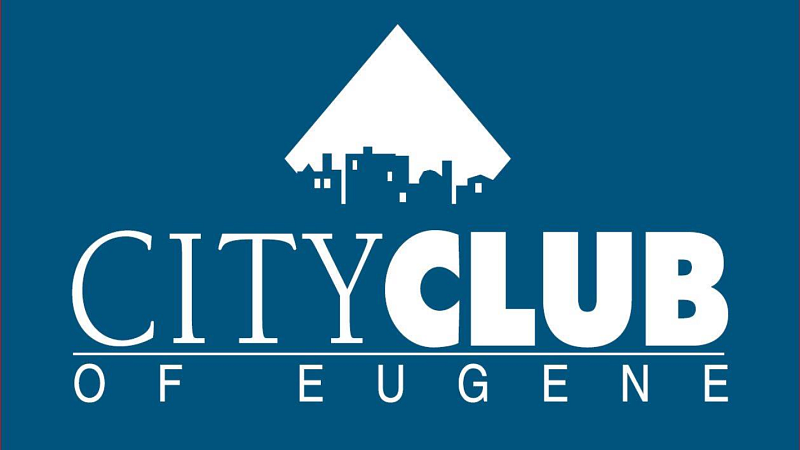 What do midterm election results tell us about the state of the nation? What are Oregon schools up to with Career and Technical Education (CTE)? What are the "Climate Kids" seeking in their case against the United States government?
These are some of the questions explored in recent City Club of Eugene Friday forums at UO's Baker Downtown Center. The forums provide Eugenians a space to learn about and debate current topics of importance to the community. UO recently became a sponsor of the longstanding civic organization, with the goal of promoting and enriching public discourse.
One of the ways UO will advance the goals of City Club is by providing content area experts for the Friday forums. Upcoming topics will draw speakers from a variety of UO departments, including School of Journalism and Communications' Lisa Heyamoto discussing the future of locally owned newspapers and media outlets on December 7, and a January 11 presentation on the state of the university by UO President Michael H. Schill.
Each week's program is recorded and rebroadcast on KLCC the following week, and increasingly the sessions are livestreamed, which expands community access to the conversation. Programs are in two parts, beginning with a presentation of two or more sides of an often contentious topic, followed by a facilitated question-and-answer session from members of the audience.
With the City Club's mission "to build community vision through open inquiry," audience questions are a critical piece of the programming. "It allows them to test the speaker's theories, and allows the audience in the room and on the radio to get a better understanding of how the speaker got to their position [on an issue]," said Joel Korin, City Club of Eugene President.
Korin believes that access to UO researchers will enrich the City Club's programming. And engagement with City Club isn't limited to UO employees: "I do hope that eventually we will have more student involvement in City Club, to build the next generation of citizens," said Korin.
"UO is pleased to sponsor City Club and promote civil discourse and critical thinking through community engagement," said Kyle Henley, Vice President for Communications. "We are also pleased to share UO's intellectual resources in the form of our world-class researchers to inform the community's understanding of issues on an array of topics relevant to twenty-first century public life."
More information about City Club of Eugene and a schedule of upcoming Friday forums can be found at their website.