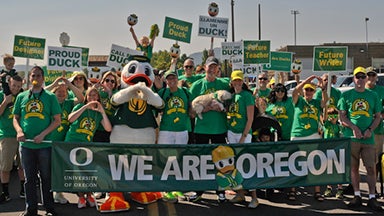 Community Relations serves as the liaison between the community and the university. The mission of this unit is to foster good relations and open communication with local governments, surrounding neighborhoods, civic and community-based organizations, and the local business community. Staff members monitor local ordinances, programs, and proposals, and direct the university's engagement in local community events and activities.

Matt Roberts is senior director of community relations.
Campus Community Contact (newsletter of events which may affect neighbors)
To subscribe to the Campus Community Contact newsletter, send your name and e-mail address to gcr@uoregon.edu.
Resources for near-campus neighbors
The UO Campus Neighborhood News is an annual publication that provides information about issues of mutual interest to the University of Oregon and nearby neighbors. The publication lists events and activities that build good relations between students and neighbors, lesser-known events on campus in which neighbors may participate, and tips on improving neighborhood livability.
Resources for policy makers, students living off campus and neighbors living in near-campus neighborhoods
Matthew Knight Arena
Calendar of events, parking and transportation information, feedback
2017 International Town & Gown Association Conference