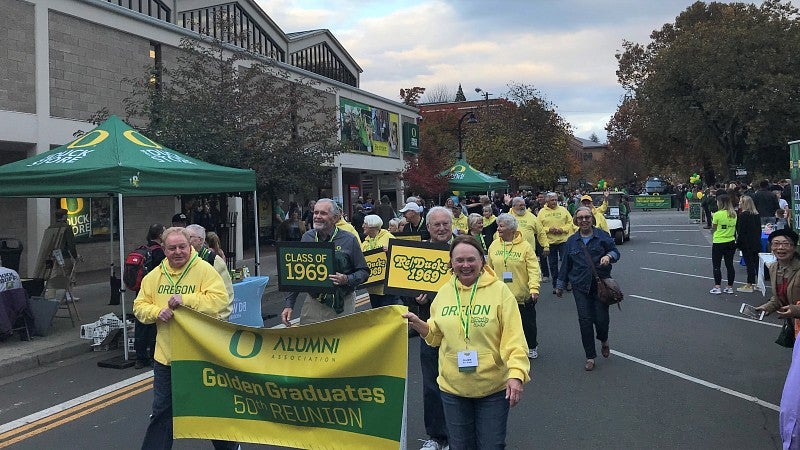 What is home to you? What does it feel like, look like, taste like?  
These are the questions that inspired this year's Community Welcome block party, leading to pairing the event with the university's Homecoming festivities. The result? The first-ever #HomeToYou celebration: A lively event celebrating all that's wonderful about calling University of Oregon home, and the ways we bring the feeling of home with us wherever we go.
Thousands turned out Friday, October 25 for the Community Welcome block party and Homecoming Parade. The day-long event featured live performances, giveaways by 13th Avenue businesses, and activities hosted by community and university groups. The block party, co-sponsored by the University District Business Association, culminated in the Homecoming Parade and Pep Rally.
The parade was led by the Class of 1969 Golden Graduates and included dozens of golf-cart floats decorated by student organizations, residence halls, and even Eugene's Slug Queen SluGoddess Slime Shine.
The Green and Yellow Garter bands closed out the parade with renditions of everyone's favorite fight songs and, of course, "Shout!" DJ Kellalit closed out the night with an electronic dance music and light show, just in time for the storm clouds that had threatened throughout the afternoon to unleash wind and rain.
The 2020 Community Welcome block party and Homecoming Parade date will be announced in the coming months.
More photos of the Community Welcome and Homecoming Parade: